eurofighter typhoon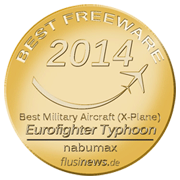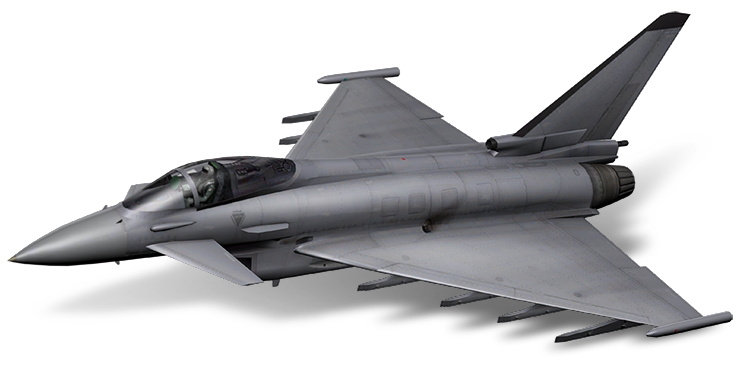 Description
The Eurofighter Typhoon is a modern military aircraft which needs no introduction.
The Eurofighter Typhoon's manoeuvrability is outstanding in every way and can happily compete with the famous F22 in a dogfight, despite the absence of thrust vectoring. This X-Plane model attempts to capture the same feeling as the real aircraft, as you will get a sense of what it's like to experience 9g.
The exterior model is based and adapted to a low poly object which has texturing to rival frame-rate heavy models. The interior cockpit is also low poly, which ensures there is no FPS drop during important phases of flight.

Now the flightmodel: I think is the best you can get from this type of aircraft (very unstable configuration with high performances) running in X-Plane without plugin. What you will fly is simply the best tuning of PlaneMaker parameters and Airfoils.

Expecially for Airfoils was fundamental the contribution of Daniele Capizzi, who made possible to customize Airfoil polars throught his magic Excel spreadsheet. By arranging few keypoints for each airfoil coefficient (cl, cd, cm) the spreadsheet instantly soft interpolate the whole polar!

X-PLANE REPLICA FEATURES - X-Plane 10.25:
Accurate Flightmodel
Nice lowpoly 3D exterior model with normal maps
Nice lowpoly 3D cockpit with openable canopy
Custom sounds
Autopilot
Weapons functions
Tail hook for carrier landing
Brake chute
CHANGES IN VERSION 1.1:
fixed inverted rudder
fixed jittering slats
fixed nav freq knob
fixed AMRAAM missiles guidance
disabled auto-trim pitch loads
reduced fuselage drag
reduced rudder with aileron ratio (from -0.8 to -0.1)
added total weight indication in cockpit
added texture paint kit (psd file)
added cockpit paint kit (psd file)
CHANGES IN VERSION 1.2:
fixed autopilot activation from cold and dark
fixed ASRAAM missiles guidance
roll rate improved a little
pilot POV moved backward a little
CHANGES IN VERSION 1.3 - X-Plane 10.30:
fixed an amperage bad setting causing flashing displays
added knob controlling NAV1 OBS course
added basic FMS to load a flight plan
added autopilot source: NAV1 or GPS
added autopilot LOC function
refinements in the artificial stability
CHANGES IN VERSION 1.4 - X-Plane 10.31:
increased brake friction
added visual-only feature: canard in vertical position at max park-brake
CHANGES IN VERSION 1.5 - X-Plane 10.42:
fixed a landing gear parameter to allow carrier catapult
CHANGES IN VERSION 1.6 - X-Plane 10.45:
landing gear lights will turn off when retracted
less annoying transonic alert sound
Gallery